Looking for a Family Bible Study? This Unique Study Will Have a Positive Impact!
Grace, Grow & Edify is dedicated to recommending quality resources to benefit homeschooling families. This blog contains and is monetized through sponsored posts and affiliate links. Please see our full disclosure policy for detailed information.
Looking for a Family Bible Study? This Unique Study Will Have a Positive Impact!
I am always looking for new and exciting resources to help my children understand the Bible better. One of my main reasons for homeschooling when we began in 2008 was to keep Jesus at the center of our learning. I want my children to be fully equipped with knowledge of the Bible and the Gospel before they leave our home someday. 
Biblical teachings are essential and will serve my children well as they mature and grow into young Christian adults. The Bible contains incredible stories, history, and parables from which our children can benefit. 
I have had my eye on the Modern Parables course from Compass Classroom for a while and finally got an opportunity to try it out and share it with all of you. Modern Parables is a unique Bible study course for the entire family. And I was pleasantly surprised because it is even better than I expected! Many of you know how much I love subjects that I can teach the whole family together! I love combining my children in our homeschool whenever I can. It's a time saver and makes my momma's heart happy to see my family learning about the Bible together. 
What Exactly is Modern Parables from Compass Classroom? 
Modern Parables is a unique learning experience for the entire family. Compass Classroom has done a fantastic job of developing original short films that recreate parables from the Bible. This is a brilliant idea; taking parables and recreating them with a modern twist significantly helps children and teens better grasp how the parables are still paramount today. 
In addition to the modern take on parables, there are pastoral application videos as well. The pastoral teaching videos are excellent follow-up teachings for relating these parables to our daily lives. Rooted in Biblical Theology, these teaching help parallel the parables taught by Jesus to our current times and lives. 
Modern Parables is a course that your family (or homeschool group) can follow along for 6 or 12 weeks. There are 12 lessons, but since every two are based on the same parable, you could complete it in six weeks if needed. However, I recommend stretching it out a full 12 weeks. That's how we are using it. Twelve weeks gave us more time for deep discussions, questions, and mulling over things a bit longer. And get ready; there will be a lot of insightful questions and chats as a family after each lesson. 
Why Use a Family Bible Study?
Studying the Bible with our children has so many benefits for the family. Modern Parables is designed for the family to watch and discuss the lessons together; if you can incorporate dad, even better! 
But let's face it, the parables of the Bible can be difficult to understand. Jesus spoke in parables for a reason; he wants us to dive into a deeper understanding of these stories. To know Jesus, you must discover how he spoke and understand why. 
God wants us to discuss the Bible with our children and help them to understand these parables better. Even I better understood a few parables I had read many times before. So if your family is new to Bible study or interested in learning more about Jesus, I highly recommend completing the Modern Parables course from Compass Classroom. 
Who Can Use Modern Parables as a Family Bible Study?
All families. 

You do not have to be a homeschool family to use Modern Parables at home. Families with children ages ten and up could benefit from the course. 

Homeschoolers. 

Yes! I highly recommend this Bible Study as a complete curriculum if you are a homeschool family. We are currently using it with my two elementary-aged boys and my daughter, a senior, this year. 

Homeschool groups. 

Modern Parables would be an excellent course to go through with a group of fellow homeschoolers. And since the recommended ages are ten and up, it would be great for a group with a mix of ages. 
Why We Love Compass Classroom for Homeschool:
If you aren't yet familiar with Compass Classroom, you definitely need to take a look at them. Compass Classroom is a fantastic resource for Christian homeschool families. We have previously used Compass Classroom for high school biology and loved it! You can read that full review of Compass Classroom's Devotional Biology here. 
Compass Classroom is full of teaching resources to support parents in teaching at home. In addition to the outstanding teaching resources, Compass Classroom also offers resources such as free book lists, free sample lessons, movie lists, and historical recipes. 
If you plan on streaming Compass Classroom online in your homeschool, getting the premium membership might be the best option. For just $39 a month, you get access to over 50+ courses and up to 5 users in the family. 
With other courses to choose from like Latin, Bible, Writing with Hobbits, Economics for Everybody, Devotional Biology, Poetry, Literature, Spanish, Vocabulary, History, Creation Science, and so many more – the premium membership makes sense. 
You can even try the premium membership for one month free. Once you try it, you won't want to give it up! 
But not to worry, if you prefer DVDs to digitally streaming online, you also have that option at Compass Classroom.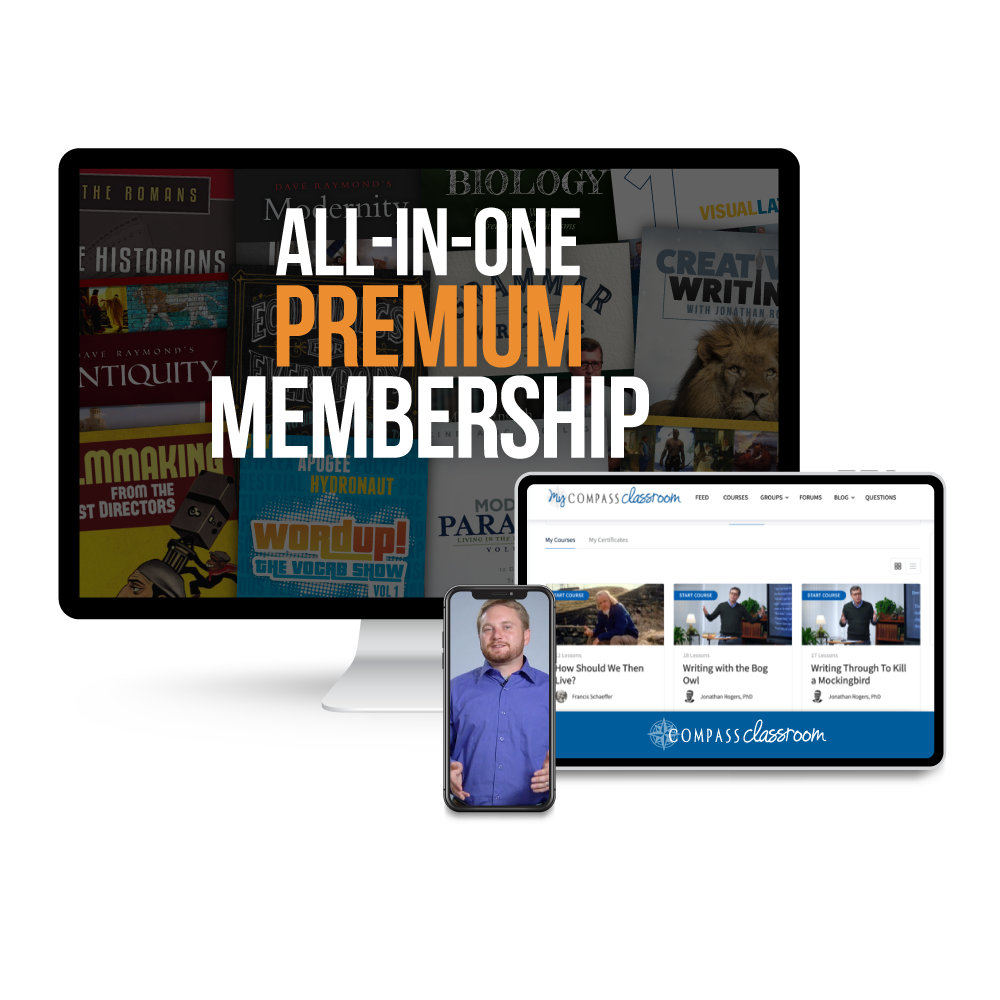 What to Expect from Modern Parables Bible Study Course:
Whether you teach at home or for a group, the teacher's guide for Modern Parables is helpful; everything is planned out with clear instructions. It makes teaching this course incredibly simple, and you can't mess it up if you follow along. 
 

 

View this post on Instagram

 
A bit of teacher's prep will be involved, but not much at all. It took me about 30-40 minutes of preparation time before each lesson. There is an option to order a physical teacher's guide if you prefer, but I found everything I needed inside the course dashboard. 
There are physical study books that accompany this course; however, in my opinion, they are more optional than a necessity, especially if you are using the course at home with your children. In your membership dashboard, where you access the course, all of the teaching resources are inside there. So you can watch and read everything you need from inside the course materials. But, if you prefer a physical study book, you can certainly choose one. The physical study book for students would be great for your study group or if you teach middle or high school students at home. 
The Modern Parables course from Compass Classroom is incredibly well done. The Modern Parables, Biblical parallels, and practical applications were so rich! Our family thoroughly enjoyed this course, and we highly recommend this one for any Christian families longing to be closer to Jesus or better understand His word.