Our Eclectic 10th Grade Homeschool Curriculum Choices
Grace, Grow & Edify is dedicated to recommending quality resources to benefit homeschooling families. This blog contains and is monetized through sponsored posts and affiliate links. Please see our full disclosure policy for detailed information.
Our Eclectic 10th Grade Homeschool Curriculum Choices
Are you looking for 10th grade homeschool curriculum? We love an eclectic mix of educating methods and resources around here.
Last year we were homeschooling 9th grade, and it was a wonderful and productive year. So we decided to keep what worked and stock up on more of what we loved. We have also added a few new things to our high school studies that I think you might like too!
If you are new here, I will give you a quick run-down of how we homeschool to better understand the curriculum choices I make.
We homeschool year-round, so we have plenty of time to fit all of our curricula in. I wouldn't want you to get overwhelmed and doubt that your family isn't doing enough. Because what works for my family may not work for yours. (That's what it's all about, finding what works for your homeschool!)
We prefer to homeschool from a Christian perspective and keep God the center of our days.
We are eclectic homeschoolers. We enjoy a blend of education methods and curriculum. Like many homeschoolers, we don't like to be confined to a particular curriculum or methods. I believe that you can customize an education to each child based on their learning styles and God-given personalities.
We are a solid routine family that likes to keep things as organized as possible. Staying organized helps us keep a consistent routine and create good habits at home.
With that said, onto our…
10 Grade Homeschool Curriculum Choices
We are already a full month into our new curriculum. I usually don't post our choices until I am completely familiar with them and can recommend them with confidence.
I am a huge fan of these morning time plans. They are completely flexible and help me offer a rich education to all of my children with little effort from me. The Homeschool Garden can even be used as a full curriculum with a few added supplements.
I also adore that I can homeschool my early elementary children, along with my high school student. I love family-style schooling, and with a few modifications – we can all study the same topics using The Homeschool Garden.
You can check out my full review of The Homeschool Garden Morning Time Plans HERE and my Morning Time Homeschool Hack HERE for more about The Homeschool Garden Morning Time plans.
Or shop Morning Time Plans HERE
Bible
We have been working through a list of Bible studies for high school. I prefer to do Bible study right alongside my daughter, and that seems to be working out very well for us.
We keep a daily Gratitude Journal too that we write three things daily we can be thankful for. My youngest also participate in gratitude journaling but use something a little more fun.
We are also working through the Jesus of the Gospels for teens and college students. This book is a wonderful addition to your homeschool Bible library.
History – U.S. Government and The Homeschool Garden
We decided with all that is currently going on in the world that we wanted to dive deep into government. We found a solid curriculum will give my daughter a strong foundation in government, and I think with a lot of what we see in our current culture, this will be invaluable.
In addition to studying government, we use The Homeschool Garden to cover history topically. We have covered various periods and historical events like The Great War, The Great Depression, Gettysburg, The Victorian Era, and more. Shop them all here.
We are long-time Apologia users, and as much as we enjoyed Apologia we decided to try something new for our 9th and 10th grade homeschool curriculum. I love the idea of incorporating living books for science.
Sabbath Mood Science has a great weekly schedule and suggested high school plans. The daily work isn't overwhelming, and each day has some suggested reading to keep up with. We feel like it's just enough.
The literature we are reading along with Sabbath Mood Science:
For The Love Of Physics by Walter Lewin
Rocks, Rivers and the Changing Earth: A First Book About Geology by Herman Schneider
Wonders of Chemistry by Archie Frederick Collins
Look At The Sky And Tell The Weather by Eric Sloane
Mondays, we incorporate nature study that we can all enjoy family-style too.  We also use Keeping A Nature Journal for nature journaling ideas and tips.
Spanish – BJU
We tried to incorporate a Charlotte Mason style Spanish last year, and we just never progressed very far. So this year, we decided to try BJU Spanish 1, and my daughter is cruising through it.
I'm not sure if it's the timing for us or the curriculum itself, but BJU is delivering for Spanish.
Psychology
In 8th grade, we chose an elective unit from 7 Sisters Homeschool as our Introduction to Psychology from a Christian Perspective. For 9th grade, we kept psychology but decided to go with Homeschool Psych 2nd Edition: Preparing Christian Homeschool Students for Psych 101 , and we are still finishing it up for the 1st term of our 10th grade homeschool curriculum.
(Yes, you can do that! Sometimes we overlap the end of one year and complete something the beginning of another. I don't stress if we haven't completed something by year-end.)
Art
If you stick around here for any amount of time, you will find out that we do a lot of art and creative projects. I believe art is such an essential part of our homeschool's health.
Art is essential because it can turn a bad day around or lift moods immediately. It also is the perfect break at the end of the week or addition to a fun unit study.
Masterpiece Society and You Are An Artist are our favorite resources for art.
Here is a full review of Masterpiece Society and one for You Are An Artist.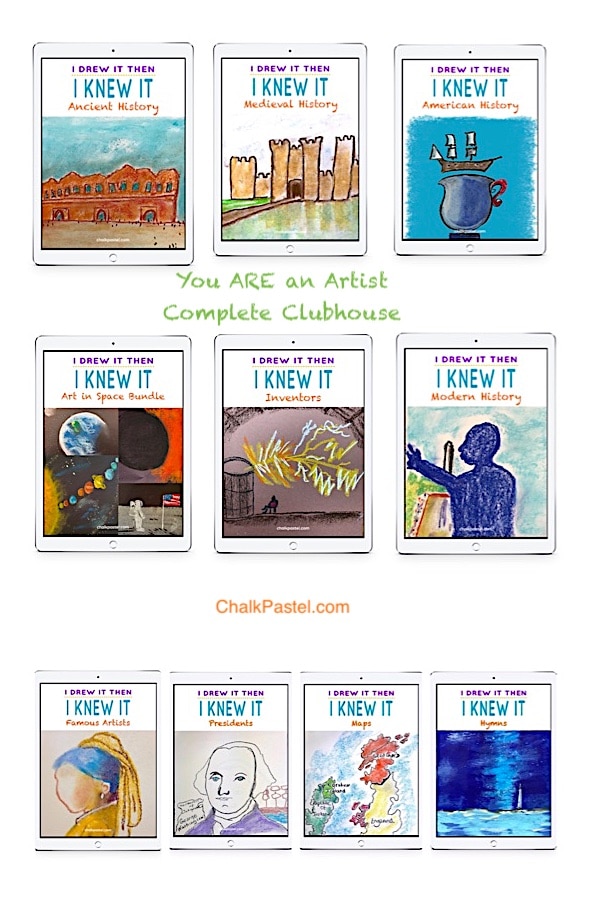 You can see a lot of our art and other resources here on my Instagram too!
We are using Charlotte Mason Inspired High School Fine Arts Course from Music In Our Homeschool this year. We are enjoying the flexibility and suggested layout to complete a full credit.
Your student will study music, poetry, Shakespeare, and art all in one with this course.
Music In Our Homeschool has so many courses to choose from for all ages. Check out all of the available courses here.
We are using an eclectic blend of  WriteShop and Poetry and a Movie this year. WriteShop covers all of our writing basics while Poetry and a Movie adds poetry plus an element of fun with all of the movies. It's an easy way to get your teens to read poetry and watch quality cinema.
Oh, my goodness! I can not say enough good things about Mr. D. We are moving into Geometry this year, and we have used Mr. D for Pre-Algebra and Algebra I. Outsourcing math to Mr. D has been one of the best decisions I ever made for our homeschool. Especially for our 10th grade homeschool curriculum.
I helped design this planner for eclectic homeschool moms. I was over buying a custom new planner year after year for $50 or more.
This one, you can print what you need as you need it. It's simple, and you can customize it to your homeschool's needs, which is helpful since our homeschool can change from season to season.
Poetry Tea Time 
We enjoy a lot of poetry tea time around our home. I find it's not just a way to read or listen to poetry (which I adore by the way) ; it's a great way to mix up the mundane. My kids love it too! Because who doesn't love reading and treats?
My favorite resource for a fuss-free poetry tea time is The Homeschool Garden. The tea time is entirely pre-planned for me. This is perfect for busy homeschool moms!
I also like some good books to read freestyle. This may range from our home collection of poetry books, lamplighter books, or interesting books that we may not be able to fit into any current subjects we are studying but are worth mixing it up with.
Just a few examples:
The Selected Poems of Emily Dickinson (Classic Thoughts and Thinkers)
The Poetry of Robert Frost
Treasury of Greek Myths
Sewing
My daughter is a seamstress and will continue taking private sewing lessons. She creates sewing tutorials for some of our favorite homeschool membership programs now too!
You can grab a simple sewing guide here if you have a child that is ready to learn.
Driver's Education
Another one of our electives this year will be driving education. We chose to do this at home, as many other homeschoolers do. Before we began, I had my daughter read this book to prepare. It is an excellent book for teens with no driving experience at all.
Every year I plan out our Advent in advance. We take each December off for Advent, and I have found that I need to plan this in advance, or it will sneak up on me way too quickly. 
Since we homeschool year-round, it is a perfectly timed break to lean into family and Jesus. This is another one that we can enjoy family-style with a few modifications for older and younger children. This year we are planning to enjoy a Colonial Christmas. 
That is what we are using this year! That and so many good books, but I think I may need an entirely separate post for all the books.
If you made it this far, grab my free cover your homeschool in prayer printable and other freebies in the resource section.
I sincerely wish you a wonderful homeschool year. Please don't hesitate to drop me a question in the comments or reach out to me with questions about any of the curricula above.