This Is What We Are Using To Homeschool Kindergarten Better
Grace, Grow & Edify is dedicated to recommending quality resources to benefit homeschooling families. This blog contains and is monetized through sponsored posts and affiliate links. Please see our full disclosure policy for detailed information.
This Is What We Are Using To Homeschool Kindergarten Better
When we began homeschooling in 2008, my oldest was a preschooler. We chose to start homeschooling with an all in one box curriculum for a few reasons. I didn't have enough confidence in myself as a teacher to plan on my own, and I was brand new to the world of home educating. Fast forward 11 years, and I am using an entirely new approach to homeschool Kindergarten with my two youngest children.
When you have children ten years apart, it's almost like you get a do-over. I am not 100% against homeschooling with a box curriculum. But knowing what I know now, I prefer tailoring a custom education to each child and how they learn best.
We didn't post what we were using for preschool last year. I purposely didn't write a post about how we would homeschool and what we would use, because I had no idea if it would work.
I have two super-active boys that are 14 months apart. And I did not want to homeschool them completely separate. They are just so close together; it seemed like a better idea to combine them. It's important to not only save precious time, but also my sanity.
Preschool Was Experimental
Since I was not sure if it would work. And it was experimental, I kept our curriculum quiet.
However, I can tell you now – our preschool year went exceptionally well. It was a success! We had an incredible year, our curriculum served us well, and our routine worked.
My three year old kept up with his four-year-old brother just fine. Even surpassed him in some areas. So we are moving along in the same direction this year too.
Before We Get Into What We Are Using For Kindergarten, Here Is What We Used For Preschool Last Year.
This one I am mentioning first because we still have activities that we didn't complete last year that will work for hands-on fun for this year too.
We thoroughly enjoyed this preschool pack from Homeschool Mastery Academy. It comes with one hands-on activity each day that ties into a central theme for each month. The preschool learning activities introduce early math, science, and literacy concepts with hands-on crafts and things like mini-lap books or scissor skill sheets.
It was the perfect blend of early learning and hands-on fun. We will continue to use it for more hands-on activities and crafts this year again.
I highly recommend it if you are homeschooling older children and want to have learning-based activities for your early learners. The preschool pack from Homeschool Mastery Academy gives you just enough for the little ones to learn and feel "included" in the homeschool day.
We used the above preschool pack from Homeschool Mastery Academy along with the Pre-K Language Arts Course Set from The Good and The Beautiful.
We also did a lot of art. My boys love Nana, and her preschool art courses from You Are An Artist. We completed plenty of art projects, most of them based on nature. We focused quite a bit on nature based learning since my boys are easily fascinated by nature around them.
That was it! Along with reading good books  aloud and tons of free play.
Here Is What We Are Using to Homeschool Kindergarten.
Language Arts – The Good and The Beautiful
We enjoyed the simplicity of the lessons and the open-and-go ease of The Good and The Beautiful Language Arts so much that we decided to stay with it for Kindergarten. We are using the Level K Language Arts Course Set.
Math – Math Lessons for a Living Education Level 1 
Art
– You Are An Artist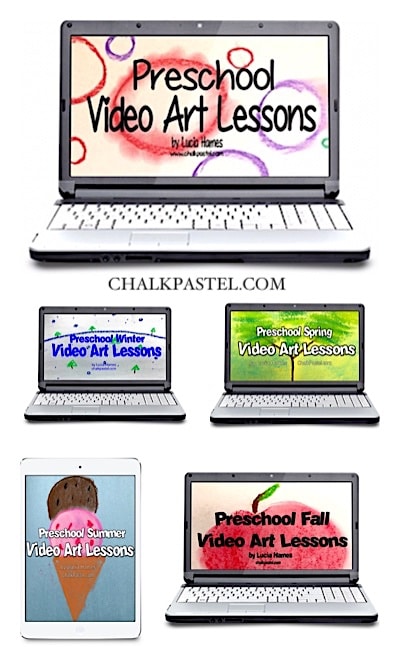 These are all just a few examples of the options offered for this age range. You can click the photos above to explore more from both of these wonderful art programs.
I like both of these because they have something to offer for the entire family, which makes them extremely valuable to our homeschool with the wide range between ages.
I also snagged The Artful Year recently, to keep on hand for more crafts, seasonal recipes, and activities to enjoy for my younger children. It has some fantastic ideas if you need something to do or create in a pinch.
Music
As we are doing art or occasionally during poetry tea time, we listen to classical music. We adore these First Discovery Music CDs. They showcase some musical pieces while telling the story of the musician's life. This is our light version of music appreciation for them right now.
They offer all of your favorite composers such as Bach, Mozart, Beethoven and more!
Nature – Exploring Nature With Children: A Complete, Year-Long Curriculum
We are exploring nature this year all together as a family. This curriculum was perfect since I could adapt it for my older student and the Kindergarteners. But we could still be together on the same topic or focus.
This year they will also begin to use a nature journal. Nothing fancy, but I liked this one because it was age appropriate with simple weather and drawing prompts.
My Nature Journal by Kids Journals
The Julia Rothman Collection: Farm Anatomy, Nature Anatomy, and Food Anatomy
A few more nature adds to our library this year.
Christian Liberty Nature Reader K
Christian Liberty Nature Reader 1
Play The Forest School Way by Jane Worroll
The Nature Connection by Clare Walker Leslie
Read Alouds
Reading aloud is a big part of our Kindergarten. This year I added all of the books…ahem, I mean more books to our library. I can not help myself. #BookLove
We also enjoy books and poetry during our weekly poetry tea time together. Here are a few of my best tips for poetry tea time with early learners. 
Winnie-the-Pooh by Milne • Shepard
Old Mother West Wind by Burgess
The Burgess Bird Book for Children by Burgess
Seed Babies by Morely
Little Bear by Elsa Holmelund Minarik
Dick and Jane Go, Go, Go by Penguin Young Readers
Miss Rumphius by Barbara Cooney
Favorite Poems Old and New Selected for Boys and Girls by Helen Ferris
A Child's Treasury of Beatrix Potter by Beatrix Potter
A Child's Garden of Verses by Robert Louis Stevenson
The Jesus Storybook Bible by Sally Lloyd-Jones
One of our favorite open-and-go resources for poetry tea time with early learners is Rooted Childhood. Complete with handi-craft ideas, whole food recipes, and book suggestions – this is a resource we have enjoyed in our homeschool for the past year and love it!
Definitely worth looking into if you want to create meaningful moments with your children around books and crafts.
Geography 
I am gently adding in geography just by using a few age appropriate books. We read about children from all over the world, look up on the map where they live, and then cook a meal from their country.
Children Just Like Me by DK
Food Like Mine by DK
Maps by Big Picture Press
Eat Your Way Around The World by Geography Matters
The Nourishing Traditions Cookbook for Children by Suzanne Gross
Planner – The Homeschool Mastery Planner 
I vowed to myself I would stop buying expensive planners year after year just to be tossed away afterward. I helped design this planner from Homeschool Mastery Academy, created by eclectic homeschool moms for eclectic homeschool moms with multiple students.
It provides the flexibility to print only what you need and customize the planner specifically to your unique homeschool. I set it up in a binder and decided that we can adjust it each year with minimal cost.
Those are our choices for Kindergarten. I hope you enjoy taking a peek as much as I have enjoyed sharing them with you.
Follow us on Instagram. We are always sharing pics of our homeschool day or completed art projects there. We would love to stay connected with you there!