Behind the Scenes Revealing Our 9th Grade Homeschool Curriculum
Grace, Grow & Edify is dedicated to recommending quality resources to benefit homeschooling families. This blog contains and is monetized through sponsored posts and affiliate links. Please see our full disclosure policy for detailed information.
Behind the Scenes Revealing Our 9th Grade Homeschool Curriculum
9th grade y 'all! Yep. We have officially entered into high school territory. Not to go down memory lane too far but, seriously we were just doing Kindergarten at home like yesterday.
All the clichés come to mind, time flies, they grow up too fast, and all of them are true.
In all honesty, we are excited to be still educating at home. We have grown in so many ways. I can't imagine that happening if we weren't here at home each day together. I have such gratitude for our opportunity to homeschool.
As most of you know, we are eclectic homeschoolers. We prefer a blend of curriculum and homeschool methods. If you know me, I do not like to be confined to anything – curriculum or methods. I believe you can custom tailor an education to each individual based on their learning styles.
Last year we mixed some of our old trusty curriculum favorites with a few new things. Our routine served us exceptionally well, and we completed the year just as planned. It was a pretty incredible year! We also incorporated my two preschoolers into the mix. Here is what we used for 8th grade if you want to take a peek.
We have already been using our 9th grade homeschool curriculum for a few weeks. I don't like to post what we are using until I know that we have used it for a bit and it's all working well.
We are pleased with our curriculum choices and a fresh new routine for the year. So, without further ado, here is what we are using this year. In no particular order.
Our 9th Grade Homeschool Curriculum Choices
Morning Time – The Homeschool Garden
Most of you who follow me know that I use these delightful morning time plans. Some months I might follow it carefully because the theme aligns with our homeschool plans. Other months I might pick and choose particular things I want to use from it; like copy work, Shakespeare or art & music appreciation.
I prefer these morning time plans over any others available because they are intricate enough almost to be a full curriculum if needed or a lovely collection of resources I can choose from. Either way, these morning time plans do not disappoint!
I am confident you will love them as much as we do. Use coupon code GGE25 for 25% off the first month, first quarter, or yearly membership of The Homeschool Garden and it's good through September 30th.
You can also take a look at a full review of The Homeschool Garden Morning Time Plans HERE.
Bible – We will be using a few from this list for the year, but currently working through The Armor Of God study.
We also added a daily Gratitude Journal for my oldest and I. We both list three things we are thankful for and pray over the day together. This has been a wonderful help with changing our perspectives to thankfulness in so many ways. Each week has a new quote that focuses on gratitude.
History – The Good and The Beautiful History Year 2
We tried out The Good and The Beautiful History 1 last year, and I wasn't sure what to expect. However, we loved it! It was probably the first time that my oldest and I both enjoyed the same history curriculum.
Each year includes a game of some type to make it fun. I love that you can use the same curriculum with older and younger students. The student explorers (activity journals) are different for each age group, but all of your children can enjoy the same core lesson.
History includes dramatic audios to help tell stories and make it engaging for the children. Oh, and year 2 comes with an already laminated history timeline! You can also choose your read alouds from the suggested book list. The suggested book list ensures that you find living books that coincide with what you will be learning through each unit.
The literature we will be reading along with this course:
Daughter of the Mountains by Louise Rankin
Beorn the Proud by Madeleine Polland
Peter and the Pilgrims by Louise A. Vernon
The Singing Tree by Kate Seredy
Science – Sabbath Mood Science
We have been using Apologia science for years. We love Apologia but thought we would try something new for high school. I was intrigued by the idea of using living books for science too! One of my friends and favorite fellow homeschool bloggers was also planning to use Sabbath Mood for her 9th grader, so I decided to look further into this curriculum.
I liked the layout of the suggested weekly schedule and high school plan from Sabbath Mood Science. The plans are not overwhelming, and each day has a lesson and recommended reading that seem like just enough. We are excited about using living books for science this year too.
The literature we will be reading along with this course:
For The Love Of Physics by Walter Lewin
Wonders of Chemistry by Archie Frederick Collins
Look At The Sky And Tell The Weather by Eric Sloane
Nature – Exploring Nature With Children, a Complete Year Long Curriculum
Our Sabbath Mood Science curriculum above requires that we study botany or biology one day a week all year. I decided to use one day a week in nature with all of my children to fill the botany requirement.
I was recently introduced to Exploring Nature With Children, a Complete Year Long Curriculum and loved the simplistic open and go style to nature study. It is a wonderful fit for our homeschool lifestyle. Check it out here.
I also refer to Keeping A Nature Journal for myself and my oldest when it comes to nature journaling.
Spanish – Speaking Spanish with Miss Mason and François
We dabbled in Spanish off and on over the past few years and decided this year we would work on more of a conversational approach. Not so much grammar-focused this time around. The manner in which Speaking Spanish with Miss Mason and François approaches teaching a foreign language appeals to me.
So far, my oldest and I  are thoroughly enjoying learning Spanish together. Not to mention, we are having a lot of laughs as we go.
I chose to do this and a few other subjects right alongside her this year. I am a lifelong learner by heart, and I also want to spend these last 4 years soaking up as much of her as I can.
Psychology
My daughter is extremely interested in psychology. Last year we used an elective unit from 7 Sisters Homeschool as an Introduction to Psychology from a Christian Perspective. So this year she wanted to dive even further into it, and we chose Homeschool Psych 2nd Edition: Preparing Christian Homeschool Students for Psych 101. 
Art
If you know us, then you know adding art is a big part of our homeschool. Art can rescue a bad homeschool day and make you look like the fun mom!
And it helps that my oldest is super artsy. So we add a lot of art projects and learning various techniques. We like to pair an art lesson with many of our homeschool lessons and themes. It's a great way to have fun while learning!
Our favorite art programs are Masterpiece Society, and You Are An Artist.
Here is a review of Masterpiece Society if you are interested, and also one for You Are An Artist. We also use both programs to add to our music and art appreciation.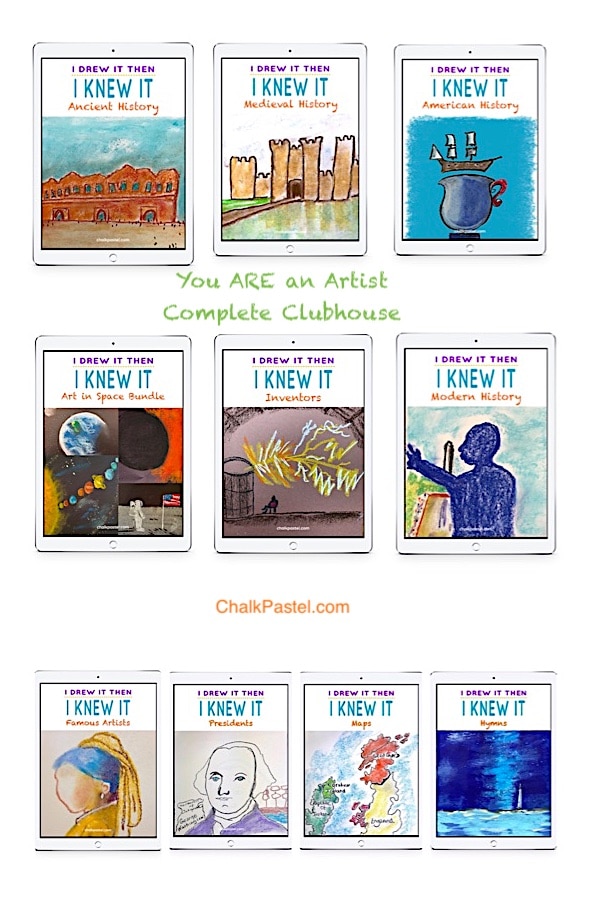 We post many of our completed art projects on Instagram. Follow us to see them.
Music – Music In Our Homeschool
In years past, our musical focus was on my daughter playing the violin. She gave up the violin to pursue more arts and craft-based projects. But we still want to incorporate music appreciation into our homeschool.
We love Music In Our Homeschool for an easy way to appreciate music. We chose A Year Of Charlotte Mason Music Lessons for 9th Grade. We get to spend an entire month studying one composer and learning a song.
Music In Our Homeschool has so many courses to choose from for all ages. Check out all of the courses here. 
Language Arts – The Good And The Beautiful LA High School 1
I chose The Good And The Beautiful for language arts for a few reasons. It incorporates geography, poetry, art, grammar, literature, and more – all in one.
I like the set up of 10 units and the fact that is it open and go. As I write this post, we are already nearing the end of the 1st unit, and I am extremely impressed with the layout of the curriculum. And as many of you know, the literature choices are of high moral standards and profanity-free.
The literature we will be reading along with this course:
Patterns on the Wall by Elizabeth Yates
Just David by Eleanor H. Porter
Into the Unknown by Matthew A. Henson, Jacob Bull, and Bernadine Bailey
The Story of John Greenleaf Whittier by Francis E. Cooke
Up From Slavery by Booker T. Washington
Math – Mr. D
We love Mr. D Math. My life as a teacher and homeschool mom has changed considerably once I gave up teaching math. Yep. Easy street! Check out my first review of Mr. D here. We used him last year for a full year of pre-algebra, and it was an excellent choice. I haven't outsourced many classes up until this point, but Mr. D is worth the investment.
Homeschool Planner – The Homeschool Mastery Planner
I decided to stop buying expensive homeschool planners this year. I hate to admit that I love planning so much, in year's past, I have easily spent $50-75 for a fancy planner. Ugh, I know! So I created a binder and bought a planner that I can use year after year with multiple students.
Eclectic homeschool moms designed the Homeschool Mastery Planner. It is simplistic and practical. I am pleased with the way I can customize the planner to meet my exact needs each year. And it's on sale! Use coupon code SUPPLIES for 50% OFF. 
Poetry Tea Time 
We do poetry tea time a few Fridays each month altogether. I start with the poetry for the younger children first. Then when they have exceeded their attention spans, my oldest and I read poetry together.
One of our poetry tea time cheats, is using the poetry tea time plans inside The Homeschool Garden I mentioned in the beginning of this post.
We have so many books, but these are a couple we recently added to our library.
The Selected Poems of Emily Dickinson (Classic Thoughts and Thinkers)
The Poetry of Robert Frost
Treasury of Greek Myths
Sewing
My daughter has been sewing for years now and will continue private lessons locally.
Advent – A Gentle Advent
When I plan out our homeschool year I leave December open for core subjects, and we follow an Advent plan. Each day we get to spend time reflecting upon and learning about the season. I love the pace of this Charlotte Mason inspired Advent plan.
We get to slow down a bit a lean into family and Jesus. The whole family can enjoy this one and it fits perfectly into a homeschool routine, and lifestyle.
So that is what we are using for the year. I am so pleased to share our picks with you.
Are you trying something new this year? Comment below and tell me about it! Or comment below with any questions about what we are using.
Don't forget above all things to cover your homeschool in prayer. Wishing you have your best homeschool year yet!