Simple Ways to Make Art Happen in a Nature Based Preschool
Grace, Grow & Edify is dedicated to recommending quality resources to benefit homeschooling families. This blog contains and is monetized through sponsored posts and affiliate links. Please see our full disclosure policy for detailed information.
Simple Ways to Make Art Happen in a Nature Based Preschool
My little boys have instinctively loved the outdoors from the moment I can remember. I try to find options that are engaging and include things they love. Well, they love their backyard! The outdoor spaces that surround them offer the beginnings of exploration and adventure.
What better way to combine their love of exploring the backyard and fostering creativity? Art + Nature
Preschool education is much about encouraging their natural curiosity and learning through hands-on fun at this age. I want to keep it simple.
We enjoy a nature-based approach to our preschool at home, and we love resources that incorporate learning about nature.
I am a huge fan of You Are An Artist's art activities. They make art with chalk pastels a hands-on experience for preschoolers. I love that their art lessons are perfect for all ages. It's also a fantastic way to combine all of your children around the table at once working on the same project.
You can use the Backyard Nature Video Art Lessons and add a few other supplements to round out an exciting themed lesson.
How We Use Video Art Lessons in Our Nature Based Preschool
Explore. First things first, we head out to explore in the backyard or possibly a nearby trail and look for evidence of nature. I encourage my preschoolers to look, listen, and observe. We pretend we are nature explorers. Nature exploring is perfect for allowing them to pack a nature bag or backpack with a child safe magnifying glass or a bug box. Nature exploring is also an ideal opportunity to start teaching safety when observing. What they are allowed to touch and what things in nature might be dangerous of hands off and why.
Learn. We can plan a trip to the library and find books about things we see. Reading books about our finds extend the lesson and allow more time to learn about the subject. We read a lot of books about nature and are always adding quality nature books to our home library.
Create. Onto more fun! Creating art with chalk pastels, the Backyard Nature Video Art Lessons include instructions for: dandelion, green anole, ant, chipmunk, hummingbirds at the feeder, and lightning bug (or firefly).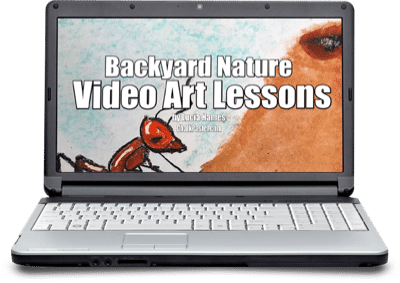 I have found that teaching these skills early on, help to cultivate a love of learning.
As a homeschool mom, I feel compelled to share with you how simple it is to use chalk pastels in your homeschool. We put the laptop on the kitchen table and grab our chalks, construction paper, and a pouch of baby wipes! Yep, that's prep. That is it.
If we are using the dining table, I cover each workspace with butcher paper. Just in case right? Because preschoolers can sometimes be a bit unpredictable!
The kids love it, and clean up is a cinch.
More Nature Art Lessons You Might Enjoy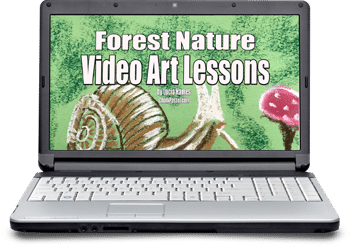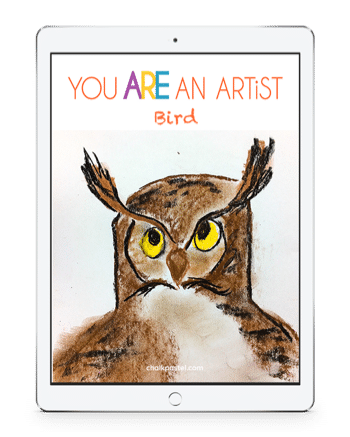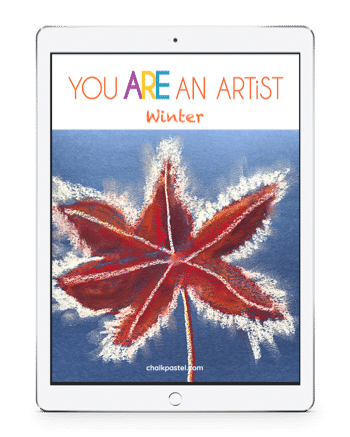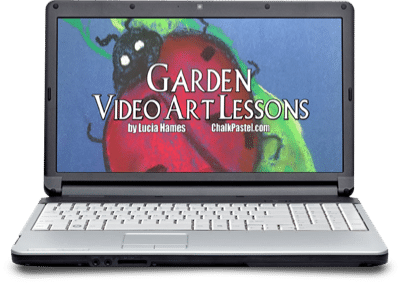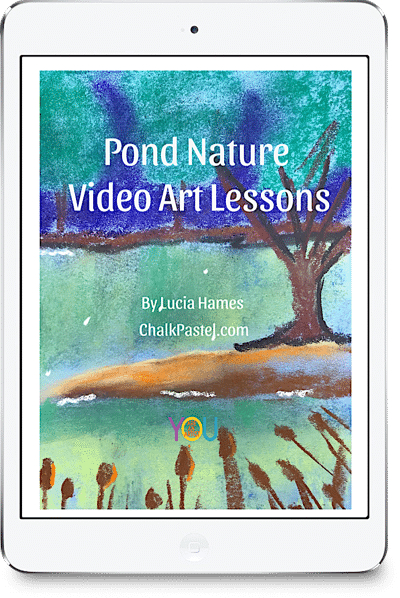 I encourage you to give the nature video art lessons a try. I know you will love them. Oh, and as for Nana the instructor…you will adore her!
More of Our Favorite Resources for a Nature Based Preschool