Easy Preschool Art Projects That You Can Do All Year
Grace, Grow & Edify is dedicated to recommending quality resources to benefit homeschooling families. This blog contains and is monetized through sponsored posts and affiliate links. Please see our full disclosure policy for detailed information.
Easy Preschool Art Projects That You Can Do All Year
As a mom who despises messes, I have finally come to terms with some art for my preschoolers that I can get behind. I have never been the "fun" mom, and cleaning up a disaster just for the sake of fun is not in my mommy skill set.
With all that said, I am entirely aware that I need to stimulate my preschooler's creativity and often. They love to engage in hands-on activities and when I can combine that with learning it is a win-win! For this reason, chalk pastels have become my latest and favorite go-to art activity for my preschoolers.
The Benefits of Chalk Pastels for the Whole Family
It is super easy to set up!
And my older child can also participate, because who doesn't like to do art? Chalk pastels are a perfect way to combine multi-aged homeschooling, or family schooling. The entire family can gather around the kitchen table and create.
What I especially love about using chalk pastels is our favorite program is designed with preschoolers in mind. You Are An Artist has simple tutorials for preschoolers that even my 2.5 year old can enjoy.
We recently enjoyed some family art time using You Are An Artist's Preschool Spring Video Art Lessons. These easy  preschool art lessons are fantastic for younger children and short attention spans. Each tutorial is approximately 5-6 minutes long, and they can complete an art project.
The Preschool Spring Video Art Lessons specifically cover a sun, heart, tree, and rain cloud. Easy preschool art lessons are an excellent addition to a lesson about any of those topics or the perfect way to open up a conversation or flood of questions from your preschooler.
You can use each of these tutorials separately or all at once. They are so simple to set up; it takes minutes to log in and have the lesson started. The materials consist of construction paper and your chalk pastels; super affordable! 
The best part, you can do these anytime of the year. Flexibility is essential when you need to keep busy preschoolers entertained. There are rainy days or times during the winter that my preschool aged boys are bouncing off the walls and need something creative to do. I don't always have all the supplies on hand for craft projects, but with chalk pastels, all I need are the chalks, construction paper, and our computer. These easy preschool art lessons are also great for trips because there is little to pack up.
You Are An Artist has lessons of all types for preschoolers to enjoy; Fall, Winter, Spring, and one with Shapes! What is even better, they have bundled packages with preschool lessons and older children's lessons if you want to stock your homeschool up with plenty of artistic and family fun!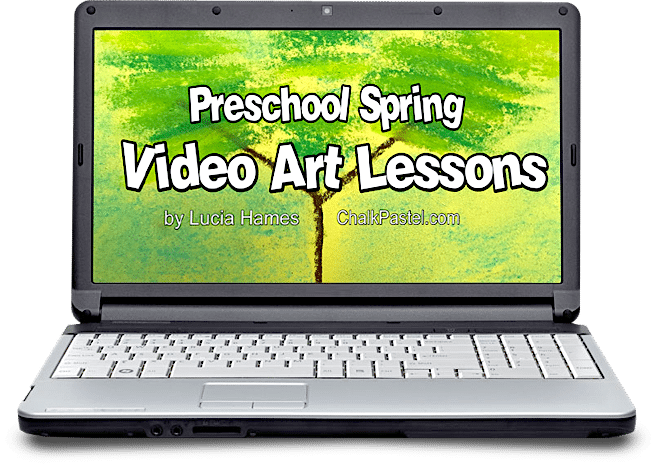 Easy Preschool Art Lessons with Simple Supplies & Easy Clean Up
Once you invest in a set of chalk pastels and construction paper, you can be stocked and ready to access your lessons anytime you need them. I love the simplicity of this with preschoolers that can often be high maintenance on their own. I do recommend keeping baby wipes near, and I use paper plates to keep your chalks on for easy cleanup.
We wash faces and hands afterward, wipe down the table surface, and done! Simple.
My kids love the instructor Nana; she is sweet and patient so that the children have plenty of time to follow the instructions. They are so proud of their completed art projects once finished.
I highly recommend this program if you want an option for easy preschool art that you can access anytime and don't want to make a huge mess. I also recommend this program if you have a multi-age homeschool and enjoy seeing all of your children around one table enjoying the same lesson.
This program is also perfect for homeschool groups or co-ops! Learn More Here.
CHECK OUT ALL OF THE EASY PRESCHOOL ART LESSONS HERE