Simple 6th Grade Homeschool Curriculum Picks For The Year
Grace, Grow & Edify is dedicated to recommending quality resources to benefit homeschooling families. This blog contains and is monetized through sponsored posts and affiliate links. Please see our full disclosure policy for detailed information.
Simple 6th Grade Homeschool Curriculum Picks For The Year
I don't know about all of you, but our school year is already flying by! We homeschool year-round, and I realized I should show you our curriculum choices for this year. So here is a peek into our 6th grade homeschool curriculum picks. We are a Christian homeschool family that leans toward the eclectic side. It's refreshing to pick and choose what we enjoy without being held to a particular method.
It has always helped me to look at other curriculum choices, so I hope you enjoy peeking into ours too. As far as 6th grade goes, I will give you a quick history – We have always homeschooled from the beginning, and we have evolved from "school in a box" curriculum from Pre K -2nd, to classical 3rd -4th (a brief go with a University Model school).
We have now relaxed into a good mix of things this past couple of years. My daughter is an auditory and visual learner, so I have learned over the years how to tailor her education to an eclectic blend that works for her. We have a good combination of things this year that happen to be working pretty well! (The past two years were a little crazy since I had babies 14 months apart!)
And of course, I always like to add a little encouragement for the moms that may be stressing out about what curriculum to choose. Remember to choose what works for YOUR family, YOUR schedule, and YOUR children. It's easy to do something because our friend tried it, or we feel like we need to keep up with "that" mom that has it all together (no such thing). But be careful we don't fall into Satan's comparison trap, do what is right for you and yours!
Our Homeschool Curriculum Choices for 6th Grade
Math
Teaching Textbooks 7 – We came from a solid foundation of Abeka Math, so we found to be one grade level ahead when we chose Teaching Textbooks, but it's visual and all done on the computer, and my daughter has enjoyed it! It keeps a grade log for you, and there is NO PREP! That's right, no teacher prep, so it's great for independent work. They have an online placement test, too. You can see what level your child is on before you buy.
Math 7: Teaching Textbooks (Book & CD)
History
Veritas Online New Testament, Greece & Rome Veritas is another excellent no-prep choice, completely independent work with no worksheets, all online. Quizzes and tests are all online; they keep an online report card for you to access anytime. My daughter has retained so much from Veritas' online courses. I highly recommend it.
Writing/Language Arts
Bravewriter Kidswrite Basic for a 6 Week course, then we will transition into Deb Bells New Writers In Residence Vol 1
. Just a quick mention of the Bravewriter course- it's pricey, I know. Still, I will tell you for those of us moms who don't have any teaching tools or a background in education; it helped show me how to coach my daughter and her writing vs. being critical and overcorrecting it.
We often extinguish our children's "fire" to write. I needed this course myself (Kidswrite Basic is for parent/child together) to learn how to help spark and foster her excitement for writing instead of making it another subject she dreaded at times.
Here is a little "cheat" – if you can't afford or don't want to invest the money for a 6-week course, get the Writers Jungle from Bravewriter , and you can use it at home. You can usually get a great deal on it at Homeschool Buyers Co-op. GREAT DEALS AT THE CO-OP on award-winning homeschool curriculum – Save up to 93%!
Spelling
BJU Press 5 – We are finishing up our spelling from last year using BJU. We plan to move forward with spelling naturally through Bravewriter and reading/writing.
Bible
My daughter does a devotional a few times a week as her quiet time with the Lord. We also do scripture memory; right now, we are on Psalm 23, for example. Once we memorize it, we will move on to another one. Some of the verses we rotate back to after a few years to refresh. We learned Psalm 23 in 2nd grade, but we cycled back to it again this year.
The Veritas online course includes so much biblical information that class is almost a dual purpose class, that's just another reason we love it. We copy various scripture when applicable to a situation, or when I see areas that need character encouragement and building opportunities.
Honestly, most of every subject I can incorporate the Bible and God into we do. I don't look at the "Bible" as a subject; preferably, it's the center of our home, our day, and everything we do. So I purchase my curricula with that in mind too. Any subject that I can choose a biblically-based course vs. a secular choice, I will choose biblical every time.
Science
Apologia Zoology 1 – I don't have to tell many of you about Apologia, most of you know and love it too! I purchase the audio and the book for science every year; my daughter can follow along as the audio reads aloud. It's so worth it for an auditory child! She loves it and learns so much! There is a journal and a junior journal – for this age, I would choose the regular journal. It has a little more mature content than the junior option. This is our 3rd year with Apologia Science.
Geography
We incorporate Little Passports for fun, excitement, and visual aspects, then I add in a few other things such as Eat your way Around the World and the Around the World Coloring Book.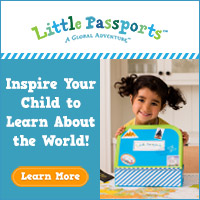 World Edition: Join Sam and Sofia as they travel to a new country every month
Art
Art is a favorite in our home! You can see all the art lessons we enjoy from Masterpiece Society and You Are An Artist. Both of which have fantastic membership options that help us to never run out of a project to do. You can see a full review of Masterpiece Society here.
Music
This was a splurge but so worth it – First Discovery Music – These are CDs we play while working on various projects. Each CD showcases not only the music by a particular composer; it also tells his or her life story. So fun! We purchased these in a large set, but they are available by the composer in singles too. They have everything from Mozart to Ella Fitzgerald.
Reading/Literature – We read a lot of Lamplighters books. After we finish the book, we listen to the dramatic audios. If you don't know about Lamplighters, you need to check them out! All Christian based, character building, and classic stories. These are great for all ages; I even let the littles listen along!
We also are doing some classic literature, of course, we just finished the Life of Hellen Keller and moving onto Heidi this year with a study guide to help facilitate some comprehension. To Kill a Mockingbird & Anne of Green Gables are also on the list.
6th Grade Homeschool Curriculum Electives & Fun Activities 
We use the Field Trip Journal by Apologia the following school day after a trip so she can document the fun! This also serves as a writing lesson, but don't tell her! lol
She participates in American Heritage Girls to keep up with her serving and also to stay in a small group of girls just her age. They also have a penpal program that hooks her up with another girl in the U.S. her same age and guess what, another writing opportunity!
Lastly, she is in a local sewing class for homeschoolers that helps foster her creative skills. She is very hands-on, so things like baking, crafts, and art all a big part of our homeschool.
Part of the beauty of homeschooling is being able to switch things up when they just aren't working! Don't suffer through a curriculum choice when you know it isn't meshing with you or your child's ability to learn.
I would love to hear what works in your homeschool! Thanks for allowing me to share our line up with you. If you have ANY questions about any of the items I listed I would love to help you – just drop me a comment or reach out to me anytime here on the blog.